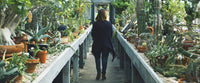 Growing our plants locally is very important to our company. Our main goal is to offer accessible plant products to those in our community. Our environmental impact and carbon footprint lie at the center of our company's values. Since conception, this has been a key principle that we will never deviate from.
By working with a local team, we are able to ensure that our plants meet our expectations in quality and freshness. As our business grows we refuse to compromise our stance on locally sourced plants and will never utilize negatively impacting methods in order to produce a larger yield.
Thank you to our loyal following, you and your support means everything to us and allows us to continue with our vision of making the world a greener place for everyone!